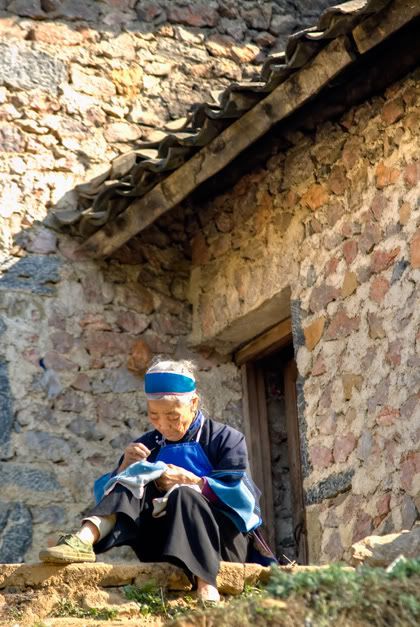 Location: DuoYi He, Yunan, China (24°45'56.77"N 104°29'50.85"E)
Date: 1 March 2007, 7.30m
Camera: Canon 400D with EF70-200mm f/2.8L USM
Buyi is a minority tribe in China, living predominantly in the provinces of Yunnan, Guangxi, Guizhou and Sichuan. A big proportion of them lives at the border of Yunnan and Guizhou, an area know as GuiYun with deep canyons in limestone karsts cut by numerous rivers. The Buyi are indistinguishable from the major minority of Guizhou, the Zhuang; studies had established that they share common ancestry. Those who lives in the urban area in fact looks no different from any Hans. However in the villages, most of the women still wear their traditional clothing of "trousers with a long-sleeved blue jacket buttoned on the right or an embroidered coat with a long pleated batik-design skirt. The front sleeves and shoulders of the coat will be decorated with batik cloth or embroidery. Women may wear brightly coloured aprons. Unmarried women may wear a black or striped kerchief with a bow on their heads. Married women will wear a turban. Men wear long pants and short embroidered jackets." (quotes from an excellent article on the Buyi).