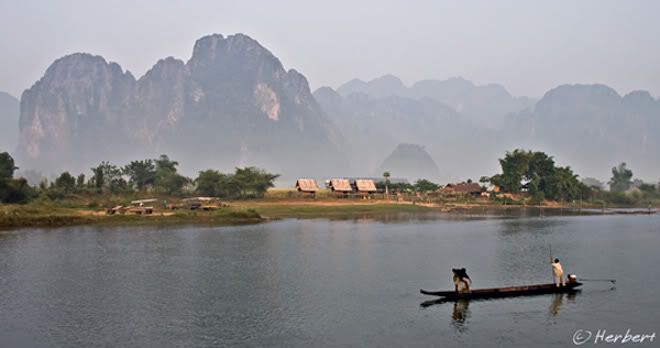 Location: Vang Vieng, Laos (18° 56′ 0″ N, 102° 27′ 0″ E)
Date: 4 November 2004; 7.20am
Camera: Canon EOS 300D with kit lens
Vang Vieng's landscape somewhat reminds me of the karsts region South China, the most well-known being those of Guilin and Yangshuo. Vang Vieng is also surrounded by limestone karsts and hills though they are not as tight and high as those of Yangshuo. Perhaps it is the Yangshuo before it was discovered by backpackers in the 1980's and the Disneyland-esque that it is now. At Vang Vieng today, one can still enjoy the simple, quaint and quiet rural setting that is common in most parts of Laos. However I wonder how long this will last as more commercial activities are springing up in the town.