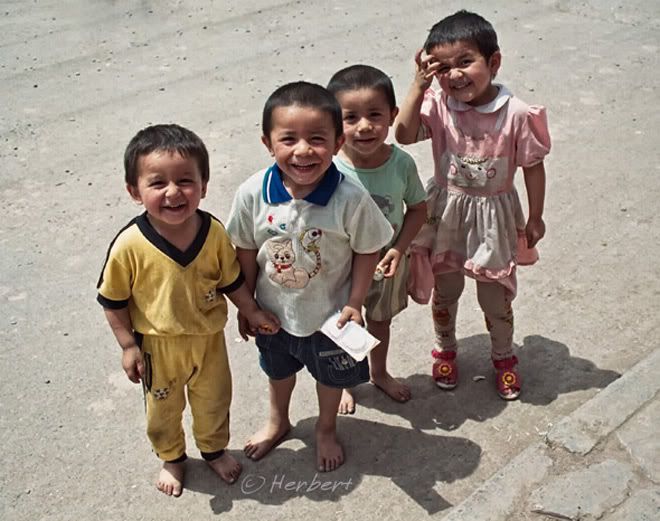 Location: Sunday Bazaar, Kashgar, Xinjiang, China (39° 45' 26 N 78° 24' 18 E)
Date: 5 June 1999; 10.10am
Camera: (analogue) Canon 500N with negatives and scanned
Kashgar, an oasis town on the western fringe of the Taklamakan Desert, Xinjiang, was an important stop of the ancient Northern Silk Route. In the last few years, it had developed into a busy tourist destination; a major hub to explore the rugged and stunning beauty of the surrounding desert as well as the snow-capped Pamir and TianShan ranges. As much as the stunning scenery, it is the incredible mix of people of the region which give colour to Kashgar.
One of its most well-known event and draw used to the Sunday Bazaar. The Bazaar had been a regular feature of the town for more than 2,000 years. During the Bazaar, the town's population would more than double when traders, herders, farmers and nomads from all over the nearby regions and far-flung countryside would come to town to trade. These would be people of different ethnic origin- Tajiks, Kyrgyz, Kazakhs, Uzbeks, Uighers, Mongols, Chinese- you name it. All sorts of things are traded here- from produce, every day needs to livestock such as sheep, cattle, horses and camels. In the old days there was only one lively, chaotic and magical Sunday Bazaar where everything including livestock are traded at the same location (different sector). This changed a few years ago when (supposedly) for hygiene reasons, the livestock trade was separated and located at a different location, just outside of town proper. To me, this has robed part of the magic and fun out of the Sunday Bazaar.