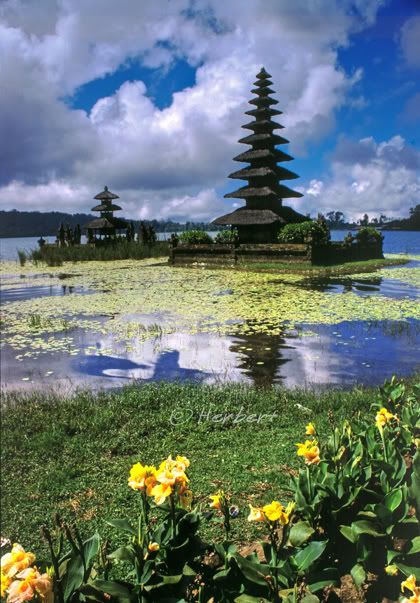 Location: Pura Ulun, Danu Bratan, Bali, Indonesia (8° 16' 60 S 115° 10' 0 E)
Date: 8 May 2001; 1.50pm
Camera: Canon EOS 500N (analogue) on slides and scanned
Ulun Danu Bratan is situated on the shores of the lake, Danu Bratan. The temple is supposedly half-Hindu and half-Buddhist dedicated to Dewi Danu, the Goddess of Lake. It is being looked upon as a source of irrigation for much of southern Bali and pilgrims from all over Bali pay homage to the temple to ensure continued and steady supply of water to the island.
The temple houses an intricately carved Buddhists stupa, an elegant 11-tiered meru (multi-roofed shrine) dedicated to Vishnu, a seven-tiered meru dedicated to Brahma and a three-tiered meru that houses a lingga to Shiva. There are also two small shrines inside the temple complex. It is one of the most picturesque temples in Bali, though not the holiest.