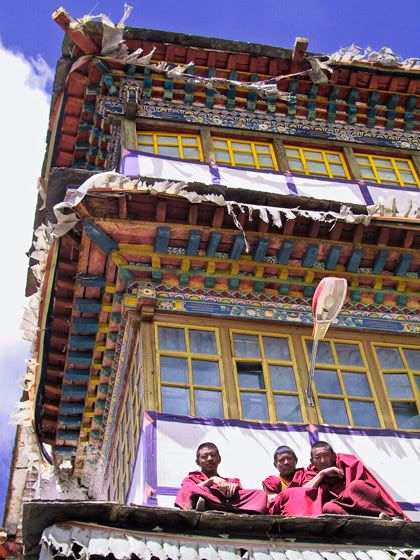 Location: Drigung Ti Monastery, Tibet, China, (30° 6′ 23″ N, 91° 12′ 18″ E)
Date: 23 April 2003; 12.05pm
Camera: Canon G1
Drigung Ti Monastery, about 140km from Lhasa is the mother monastery of the Drigung Kargyu lineage of the Kayupa or what is popularly known as the White Hat Sect. Kayupa is one of the four major denominations of Tibetan Buddhism (are you confused yet?).
Anyway Drigung Ti is one of the largest site for Tibetan sky burial in Tibet. In fact it was one of only two places in the whole of China where a stranger was allowed to watch (but cannot take photos or videos) a sky burial; the other site was in Langmusi, Gansu. However it seems both of these sites is now off-limit to strangers to witness the sky burials. I was lucky- I went to and witness the sky burials in both these places before 2004 when there were still accessible to strangers.