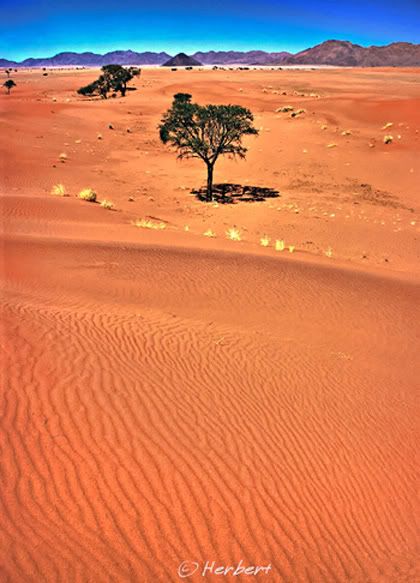 Location: Near NamibRand Nature Reserve, Namib Desert, Namibia (25° 2'8.68"S 16° 5'41.73"E)
Date: 14 April 2001; 4.15pm
Camera: (analogue) Canon 500N with slides and scanned
A huge swath of Namibia is the Namib Desert. Its significance can be gauged from the fact that Namibia's name is derived from the name of the desert. Namib means vast in the local Nama language. It is indeed a vast land of rolling orange dunes, including some of the highest in the world, some 300meters high, around Sossusvlei.
The scenery may be amazing but the local wildlife and flora is just as fascinating. Animals, insects and plants have adapted to this arid and at first sight, inhospitable landscape in distinctly unique, incredible and beautiful fashion. This include the acacia plant photographed here.