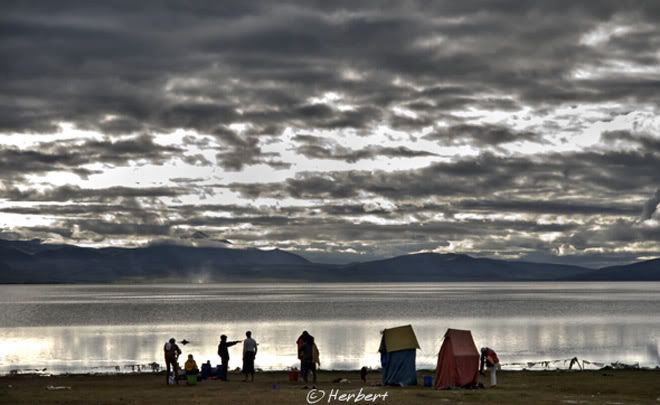 Location: Lake Manasarovar, Ngari Tibet, China (30°40′25.68″N, 81°28′07.90″E)
Date: 7 August 2007; 9.07am
Camera: Canon 400D with Sigma 17-70/f2.8-4.5
Lake Manasarovar known as Mapham Yutso in Tibetan or 玛旁雍错 in Chinese is situated in one of the remotest parts of the world - at the far western border of Tibet province in China - a region known as Ngari. The region of Ngari borders with India and Nepal. At 4,556m it is the highest freshwater lake in the world. chinabackpacker has a guide on how to get there.
Lake Manasarovar is the source of the mighty Indus River (longest in Pakistan and third longest in the Indian Subcontinent). A few other major rivers such as the Sutlej also trace its source in the vicinity. The lake's water originates from glacier meltwater of the nearby Himalayan mountains.
The lake and the neighbouring Mount Kailash is a major pilgrimage site for many religions. Hindus from India and Nepal and Tibetans make the arduous journey to the lake every year. The Tibetans circumambulate the lake while Hindus take ceremonial baths (as in the picture) and drink the icy cold water of the lake. Such acts are supposed to cleanse believers of their sins.