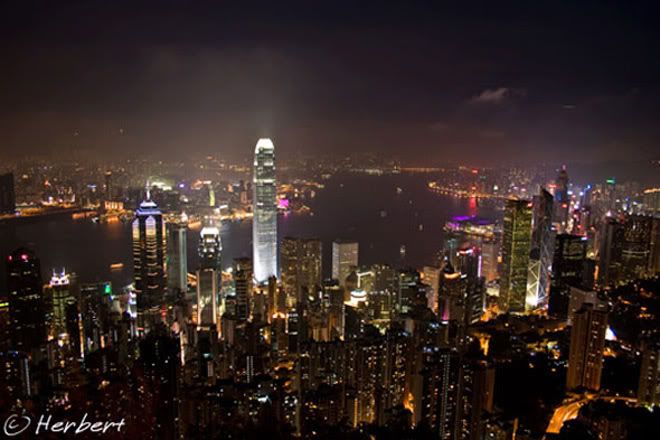 Location: Hong Kong skyline from Victoria Peak (22° 16' 60 N, 114° 9' 0 E)
Date: 14 November 2004; 6.36pm
Camera: Canon 300D with kit kens
One of the major attractions of Hong Kong is undoubtedly its packed and beautiful skyline. I believed the best place to enjoy that is from Victoria Peak (the Peak). Most people will just take the tram either to the upper Peak Tram station, below and east of the summit and take a few quick photos and peek, then off they go. This is a pity because the best views are actually along a walking circuit that circles the hill. Part of the circuit passes through scrubs and woodland- a bit like a nature trail. A portion of it is built on supports overhanging the side of the hill. One can see different views of the city and harbour along the walk. The easiest way to get on the circuit is to head right along Lugard Road from the Upper Tram station.
Nowadays a view like this photo may be rare as it gets buried under dense blankets of smog drifting from South China.