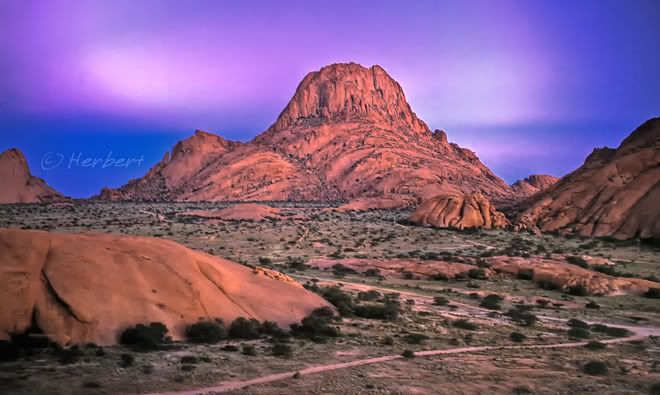 Location: Spitzkoppe, Namib Desert, Namibia (21° 49′ 29″ S, 15° 11′ 39″ E)
Date: 18 April 2001; 6.25am
Camera: (analogue) Canon 500N with slides and scanned
The Spitzkoppe is often described as the "Matterhorn of Namibia". The granite massif is situated in the Namib Desert, with the highest outcrop at about 1,784m above sea level. It is not the highest mountain in Namibia but maybe, the most well-known due to its striking outline and its dramatic rise from the endless, dry surrounding plains. The highest peak is about 700m above the floor of the desert below and the island of mountains can be seen from far away.
The granite pile harbours many different unique flora and fauna as well as ancient Bushmen artworks. There are also many beautiful arches and rocks with strange cavities formed from wind and water erosions over the millennia.