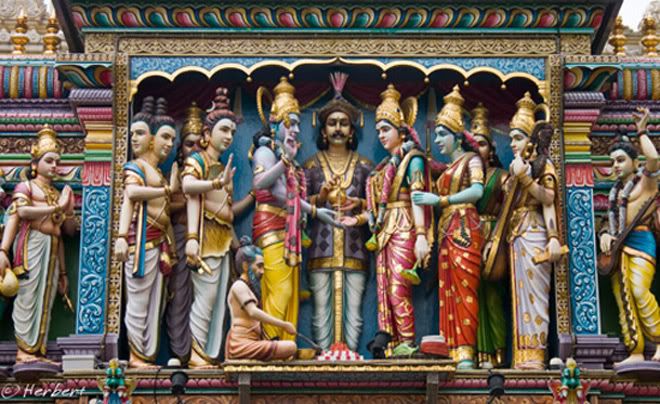 Location: Sri Krishnan Temple, Singapore (1°18'1.98"N 103°51'10.58"E)
Date: 6 January 2005; 4.30pm
Camera: Canon IXUS IZoom
Sri Krishnan Temple is a major Hindu temple in Singapore, being dedicated to Krishna, the ninth incarnation of Vishnu. The temple's origins in 1870 were modest. A large banyan tree (now gone) was the congregation point for many of the Hindu labourers that lived and worked in the neighbourhood. A wealthy merchant, Mr. Hanuman Beem Singh, realized that these men needed a place to worship and had two deities built along the base of the tree. Some years later a larger platform was built to place a deity of Lord Krishna. The temple had since undergone several renovations over the years.
Renovations and additions are very important to Hindu temples, often occurring at least once every 12 years in ceremonies meant to symbolize ritual purification. This is why the deity representations around this temple retain their paint and colours. Nowadays the temple also benefits from its location next to the Kwang Im Temple; hordes of Buddhist/Taoist devotees and/or tourists pray at the temple after or before visiting the neighbouring Kwang Im Temple.