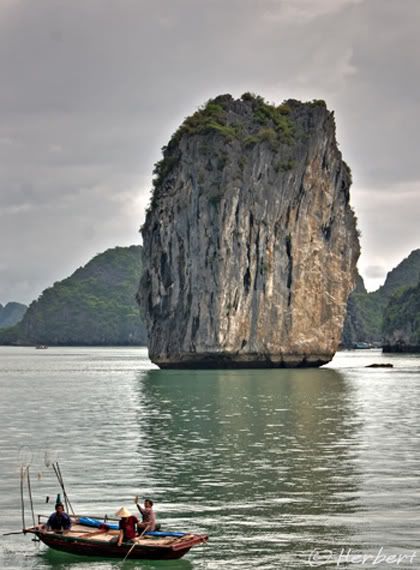 Location: Halong Bay, Vietnam (20° 54′ 0″ N, 107° 12′ 0″ E)
Date: 8 June 2005; 9.20 am
Camera: Canon 300D with kit lens
Halong Bay in north Vietnam consists of about 2,000 limestone monolithic islands, most of them topped with thick jungle vegetation. These islands rise quite spectacularly out of the ocean. Most of the islands are very small; two of them are big enough with permanent towns and settlements. There are also many clusters of boats connected with floating platforms that constitutes a somewhat permanent floating presence.
Halong Bay is one of the most popular tourist destinations in Vietnam. Many people just spend a day or two, taking a cruise around the islands or spend a night on a boat or on one of the two big islands. If you are planning to visit from Hanoi, it is cheaper and much easier to join one of the one or two-day packages offered at every corner of town.
Personally I felt that Phang Nga Bay in south Thailand on the shore of the Andaman Sea to be a much more spectacular experience. It is also less touristy and easier to visit independently.