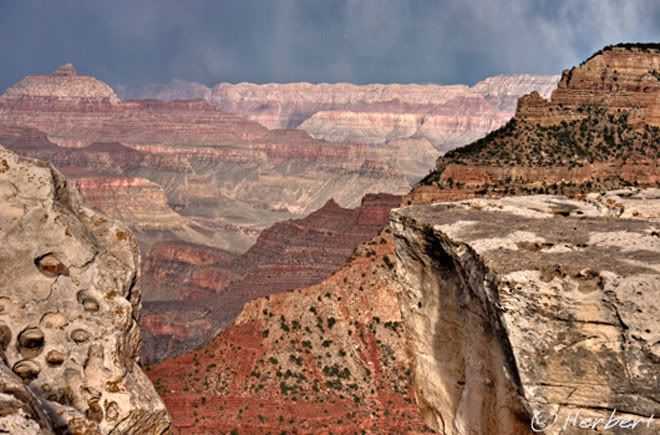 Location: near South Kaibab Trail, South Rim, Grand Canyon, USA (36.05335° N, 112.08344° W)
Date: 6 September 2006; 4.15pm
Camera: Canon EOS 300D with kit lens
It was a cloudy day when I took this picture. However there is still good light which shows off the multi-colour hues of the Canyon quite nicely. Grand Canyon was my first experience of a National Park in USA. Unlike parks in NZ where I was often awaken by chirping of birds in the morning, I was awoken by sounds of traffic at the Grand Canyon. I camped in one of the designated (paid) campsite which is not far from one of the major roads within the park. Grand Canyon is quite nice but I guessed it would be nicer down in the canyon rather than around the rim where I spent most of my time. Perhaps next time, with better preparations.
I took public transport to the Canyon from Vegas. I had to pre-book everything, from bus transport, connections and campsite accommodation. On one hand this is useful as I am sure or certain of getting there and back and having a place to camp. However it is also rather restrictive as it means that I cannot change my plan/dates easily without foregoing my bookings or fees paid.