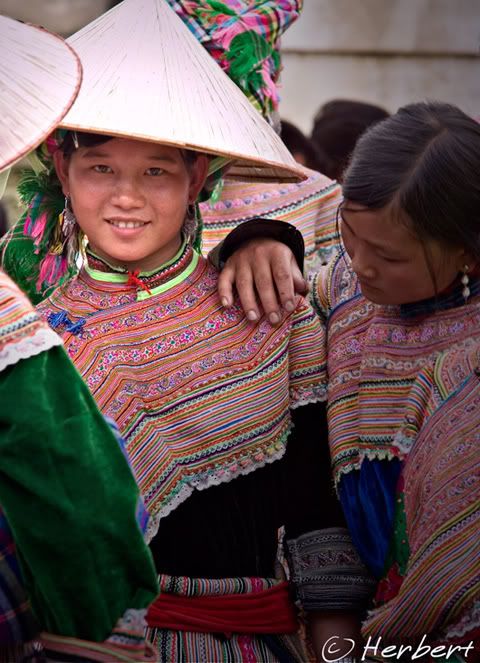 Location : Bac Ha Sunday Market, Vietnam (22° 33' 0 N 104° 16' 0 E)
Date : 5 June 2005; 9.12am
Camera : Canon 300D with Sigma 70-200/f2.8
I went to Vietnam from China, crossing over at Hekou. It was surprisingly smooth and straightforward at the border crossing- nothing of the notorious hanky-panky by Vietnamese immigration/customs officials at all. From there it was an easy and quick bike ride to LaoCai town to catch a bus (an hour) to Sapa.
Bac Ha is about 100km and 2+ hours from Sapa. It is best to go on a Sunday as the market is swarm by various ethnic minorities from the surrounding areas on that day- Flower Hmong, Phu La, Dao Tuyen etc. Most of them are rather shy for photography. It is advisable to ask permission before taking their close-up portraits- it is fine to take from a distance. I saw (here as in elsewhere in Asia) many zealous would-be photographers who just walk right up and stick their camera or lens in the face of these gentle people and snapping away without even a smile or word. I strongly advise against doing so- it is discourteous, disrespectful and condescending.