I am sad to read today that Sir Edmund Hillary had passed away. I have not met him before in all those years I spent in NZ but have high regards and respect for him with his work and commitment towards the Sherpas in Nepal. I saw many structures in the Khumbu area whose existence are the results of his Himalayan Trust's work. I also heard the respects and reverence of the Sherpa people towards him. This is the passing of not only one of the most celebrated adventurer the world ever seen but also one of the most conscientious and charitable adventurer, who not only take his fame and fortune from his adventures but also return the same.
The Everest photos are a tribute to the man.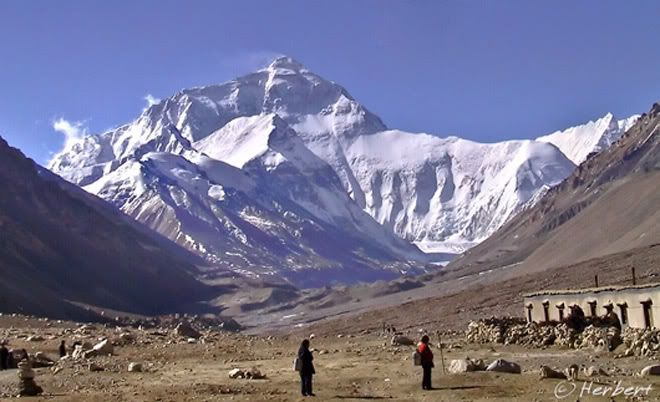 Location : Rhongbuk Monastery (5,100m), Tibet, China (28.194N, 86.829E)
Date : 27 April 2003; 10.25am
Camera : Canon G1
Rhongbuk is the highest monastery in the world at 5,100m. It is about 15km from the Base Camp (EBC) to Mount Everest, better known as Qomolongma here at the China side of the mountain. The monastery has accommodation if travellers decide to stay here instead of camping at the Base Camp. The EBC here is getting popular as a base to climb the mountain as it is easier from this side. The northeast face of the mountain appears more rounded compared to that seen from the south in Nepal.
This photo may never be the same anymore now that a paved road is being constructed to the EBC. The road should be cutting through this very spot.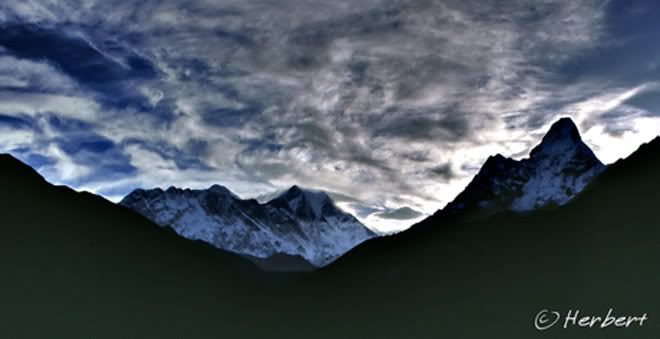 Location :Tengboche, Nepal (27° 50' 12.2" N, 86° 45' 39.32" E)
Date :11 May 2000; about 7am
Camera :analogue Canon EOS 500N with Fuji slide (scanned)
This photo was taken from Tengboche with Mt Everest in the centre and Ana Dablam on the right. Tengboche is about 3,850m high and has a very important monastery in the Khumbu area. It is on the trek to EBC from the Nepal side. The EBC here used to be THE EBC. Personally I feel that a trip to EBC at the Nepal side is more rewarding and challenging. Unlike the China side, one have to trek all the way, either form Lukla or further from Jiri. It normally take anything from 10 days to complete the return trek to EBC from Lukla- it is a reasonably challenging trek. However the mountain scenery from Namche Bazaar onwards will keep your mind off the trekking. If one is reasonably fit, no guides or porter is needed for this trek.
Technorati Tags: Mount Everest,Nepal,Tibet,China,Edmund Hillary,Rongbuk,Tengboche,Ama Dablam