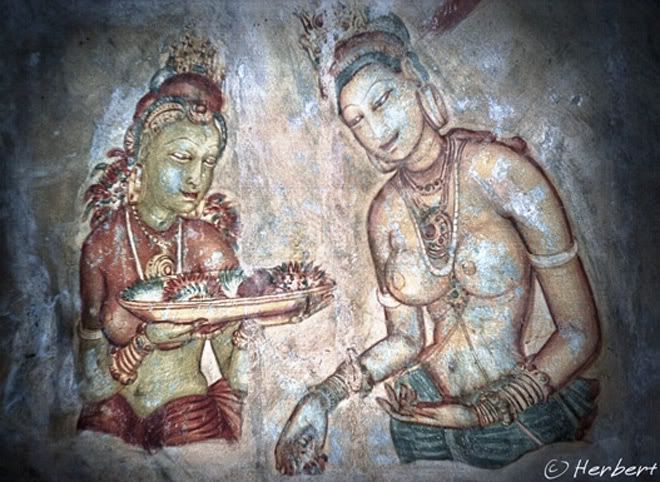 Location: The Mirror Wall, Sirigiya, Sri Lanka (7° 57′ 0″ N, 80° 45′ 0″ E)
Date: 26 February 1997; 10.45am
Camera: (analogue) Minolta compact with negatives and scanned
The Sirigiya complex was built in the 5th century. It was the site of an ancient capital. Its name is derived from "Sinha-giri" or "Lion Mountain". It consists of a volcanic rock rising starkly from the surrounding plains. The Sirigiya site has the remains of a palace on the flat top of the rock, a mid-level terrace that includes a Lion Gate and a mirror wall with its frescoes of maidens (above picture), a lower palace that clings to the slopes below the rock, and walls and gardens that extend hundreds of metres from the base of the rock.
A major attraction of the site is the remainder of the frescoes of maidens. There are only four left of the supposedly 500 original frescoes. The origins and nature of the paintings is still subject of much controversial debate with different theories. For a good concise read of the site, see here.