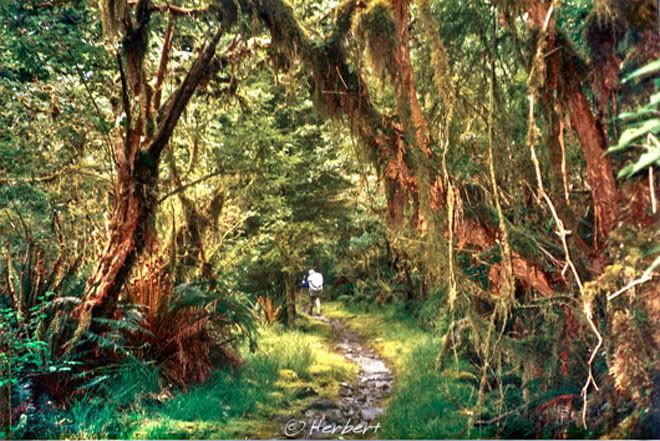 Location: Milford Track, South Island, New Zealand (44° 40' 60 S, 167° 54' 0 E)
Date: 23 December 1996; 3.20pm
Camera: (analogue) Canon EOS 500N on negatives and scanned
Perhaps the most well-known trekking destination in NZ, Milford Track is a 4 day track that can only be walked from one direction, from Glade Wharf to Milford Sound between late October and late April. At any one time there are a maximum of only 160 trekkers (or trampers as they are called in NZ and Australia) on the track- a maximum of 40 independent trekkers is allowed to start the trek every day. This means that at any time over the duration of the trek, a trekker will only meet the same 39 other trekkers who started on the same day as him/her.
Milford Track deserves its reputation as one of the most beautiful independent tracks in NZ. One can see beautiful lush valleys of beech, flowers, Moses, lichens as well as alpine lakes and tussocks, snow peaks, beautiful waterfalls over the 4 days of relatively easy walking. The scenery is even more spectacular after rain as waterfalls just tumble down the walls of the whole valley. However there are a couple of myths about Milford Track.
Myth number 1: one need to book 6 months to a year ahead to get on the track. Milford Track is popular but it is still possible to get on the track if one have a few flexible dates especially if one is trekking alone or with just another person. There are normally some vacancies on most days- just contact the Department of Conservation to check or check and book online here.
Myth number 2: it is impossible to take a bad photo of Milford Sound (of which Milford Track is located). Whilst the Track is amazingly beautiful in every way, one still needs the cooperation of Nature. Milford Sound is one of the wettest places on Earth and so one's photo opportunity is quite often wrecked by the trustworthy showers. Even at the Mackinnon Memorial snow peaks are often shrouded in mist.