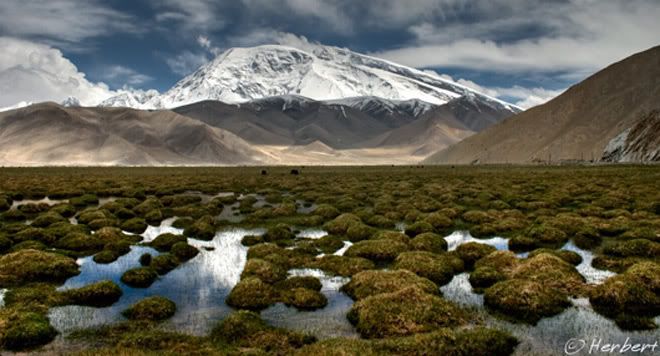 Location: Mount Muztagh Ata, Xinjiang, China (38° 16' 60 N 75° 7' 0 E)
Date: 9 June 2004; 4.43pm
Camera: Canon 300D with kit lens
Mount Muztagh Ata is 7,546m high, part of the Pamir Range in Xinjiang. It is permanently snow-capped with more than 10 glaciers tumbling down the slopes of the mountain; which earns it the nickname of "Father of Glaciers". It is one of the easiest 7,000m peak to climb.
It is a beautiful mountain with a pretty snow rounded summit. It is visible from the road between Kashgar and Pakistan (part of the Karakorum Highway). In fact it is one of the most beautiful peaks beside the huge and beautiful Karakul Lake (at 3,600m above sea level).