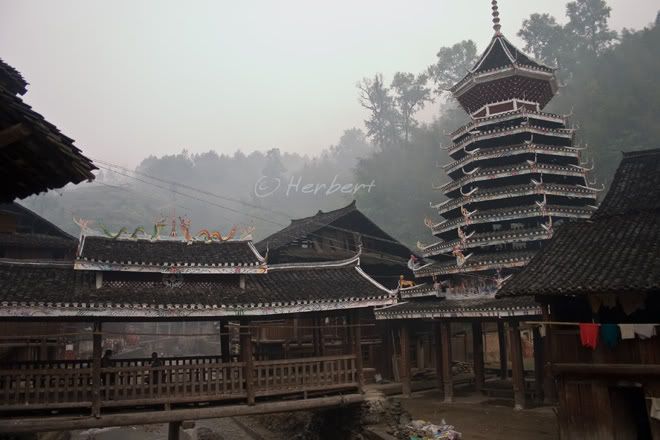 Locations: Zhaoxing's (肇兴) Drum Tower ( 25° 54' 39 N 109° 10' 35 E), Guizhou, China.
Date: 18 April 2005; 8.15am
Camera: Canon 300D with kit lens
Both these are villages of the Dong, one of the many minorities that lives in the province of Guizhou in China. Wind and Rain Bridge (風雨橋) and Drum Tower (鼓楼) are very much the tradition and culture of the Dong people. These are very poor corners of China, only slowly feeling the effects and prosperity that is sweeping China.
The Dong people usually build their villages near rivers. They erect covered bridges with pavillions and porches to connect different parts of the vilalge. These bridges provide shelter against rain and wind. They are railings on both sides of the bridge where villagers can sit or lay down. Such villages normally housed a few clans. Each clan will have their own multi-storey pagoda-like wooden building, drum tower, where they hold ceremonies and festivals, greet guests and meet for clan consultations. It is normally the tallest building and the focus of the clan. Both the bridge and tower are normally constructed from wood and held together without any nails.
I visited these villages with a dear friend in 2005. Chengyang was already touristy then being one of the destinations frequented by foreign tour groups and covered by the likes of Lonely Planet because of their still-very-much intact bridge. The people there are already corrupted by tourists who thought that they are doing them a favour (but in fact corrupting them) by giving tips when they take their photos so much so that they demand to be paid for photos or even getting close to their homes etc.
Zhaoxing on the other hand, is still very traditional, incredibly friendly and hospitable. It is not on the map of Western tour groups yet and only hardy Chinese and overseas backpackers bother to visit this lovely and beautiful but somewhat slightly difficult-to-get-to village.
An excellent write up on these Dong villages can be found in chinabackpacker's Zhaoxing and Zengchong- a Dong village articles. Furthermore this month's National Geographic magazine has a well-researched article "Village on the Edge of Time" on the same subject.