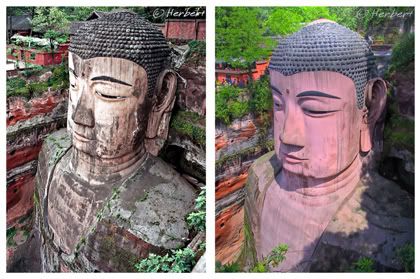 Location: Leshan Dafo, Sichuan, China (29° 32′ 50″ N, 103° 46′ 9″ E)
Date: June 1999 and April 2003
Dafo at Leshan (乐山大佛), not far from Chengdu is the world's tallest stone-carved seated Buddha figure. It was carved into a cliff face some 1,300 years ago. The 710m-high Buddha is a popular tourist destination, in no small part helped by the easy access from Chengdu.
The Buddha was given a "facelift"- clean-up and paintwork barely six years (2001) but another effort is needed this year as the figure is again stained black by pollution. The photo on the left shows how it was before the last facelift and the right shows how it appeared after that facelift. Despite concerns that led to factories close to Leshan being ordered to shut down in recent years, it is now again stained black by acid rain caused by toxic gases spewed into the air from factories and coal mines further north. Scientists now believed that major maintenance on Dafo will need to be undertaken every five years.