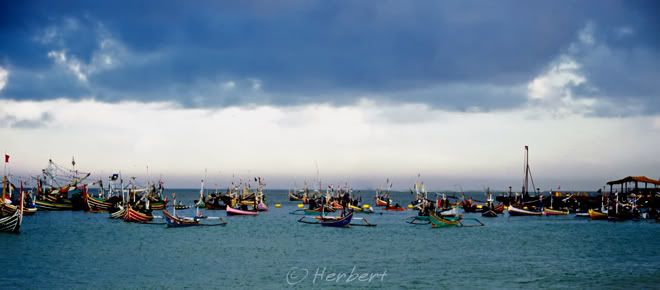 Location: Off the beach of Jimbaran, Bali, Indonesia (8° 46′ 10″ S, 115° 10′ 26″ E)
Date: 17 May 2001; 7.15pm
Camera: (analogue) Canon 500N with slides and scanned
Jimbaran is a tourist resort and fishing village, just south of the airport in Bali. It gained notoriety in the last couple of years, being the location of the 2nd Bali bombings. It is popular with tourists who come to have barbeque fresh seafood along its beaches in the evening.
The fresh seafood is caught by fishermen around here, normally overnight. They will return early in the morning and there's always a pandemonium along the beach as catches are unloaded and deals being made. This is also the best opportunity to buy fresh seafood at great prices.