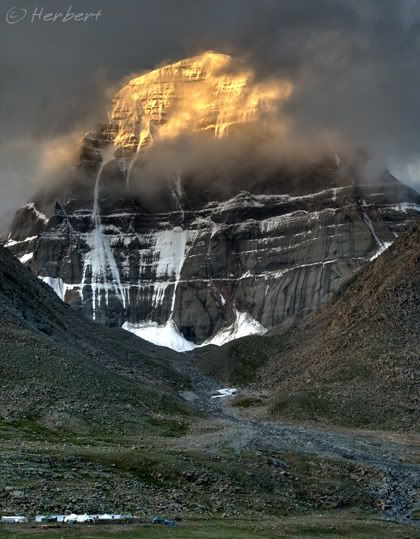 Location: Mount Kailash, Ngari, Tibet, China (31° 4′ 0″ N, 81° 18′ 45″ E)
Date: 5 August 2007, 8.20am
Camera: Canon 400D with Canon 70-200/f4L USM
Mount Kailash, one of the most holy mountains in the world as well as one of the remotest parts of Asia. It is holy to Tibetan Buddhism, Bon as well as Hindus. It attracts tens of thousands of pilgrims of these religions every year. Despite the improvement in road systems, it is still a very difficult place to get there, not to mention the potential danger of AMS if insufficiently acclimatised.
Pilgrims that make the difficult journey to Mount Kailash will normally also circumambulate (walk around) the mountain. Buddhists and Hindus do it clockwise while Bons in the anti-clockwise direction. Tibetans can complete the circumambulation of about 55 km, starting from 4,675m to the highest point at Dolma Pass at 5,630m in 15 hours; mortals like me take two days.
The massiveness of the mountain can be gauged here, compared to the tiny blue tents.