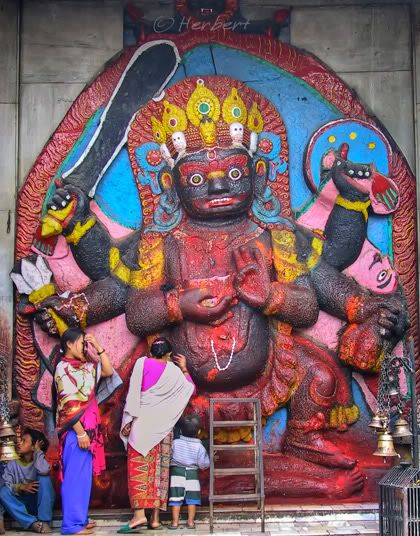 Location: Durbar Square, Kathmandu, Nepal (27° 43′ 0″ N, 85° 22′ 0″ E)
Date: 30 April 2003; 5.40pm
Camera: Canon PowerShot G1
Bharirav is tone of the fierce incarnations of Shiva associated with annihilation.  He is one of the most important deities of Nepal, sacred to the Hindus and Buddhists. There is a Bhairirav statue in front of Durbar Square in Kathmandu. This sculpture  is almost 12 feet, standing on the corpse of a devil which is the symbol of evil spirit signifying "good overcoming bad". The statue was brought here by King Pratap Malla in the mid 17 century from Raniban, a forest nearby Kathmandu.
It used to be free for anyone to roam around Durbar Square; however that has now changed. There is now an entrance fee of 500 Rs to enter the Square. This is supposed to be for the upkeep of the Square but honestly I could not see any differences or improvements betwwen my visits in 2000 and 2003.