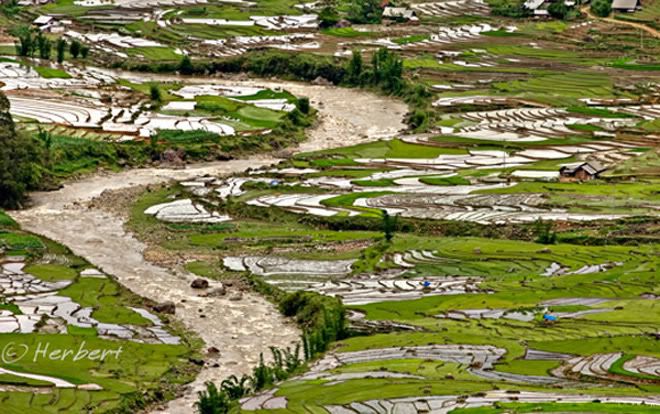 Location: Sapa, Vietnam (22° 21′ 0″ N, 103° 52′ 0″ E)
Date: 4 June 2005; 2.45 pm
Camera: Canon 300D with kit lens
Sapa is one of the most popular tourist destinations in Vietnam. It is well-known for its ethnic variety and attractive rice terraces. Though the rice terraces are nowhere near as breathtaking as those in certain parts of China (such as Yuanyang in Yunnan or Longsheng in Guangxi) or Banaue in the Philippines, there are still relatively amazing to those who have not been to these other places.  There are many easy pleasant trails among the various villages around the rice terraces. Sapa today is actually a fairly touristy place with many eateries and souvenir shops catering to tourists but are exceptionally out-of-place in this ethnic-variety mountain town. Tourists who are keen to visit a destination with unique character and landscape but still want the familiarity of the food they enjoy, the shops selling stuff that they are used to in the cities will find Sapa very exciting. Purists who are interested in visiting a place for what it is will find this place over-developed and unauthentic. Sapa is close to the Vietnam-China border and so is easy to crossover from China. Border crossing is easy at Lao Chai.