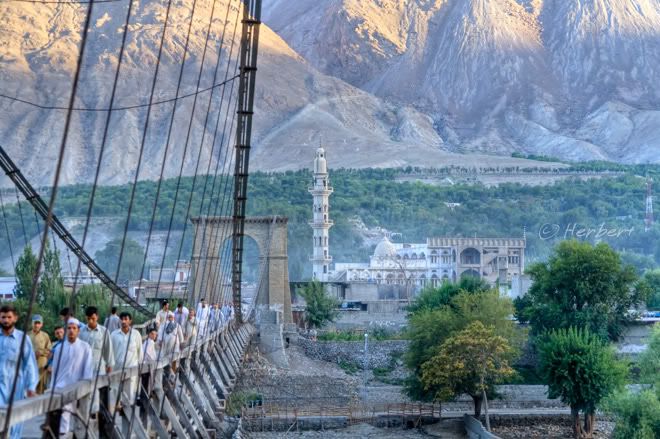 Location: Jama Mosque, Gilgit, Pakistan (35° 55' 0 N 74° 17' 60 E)
Date: 19 July 2007; 6.05pm
Camera: Canon 400D with Sigma 17-70/f2.8-4.5
Gilgit is a major centre of transport and hub for anyone travelling in the Northern Region of Pakistan. It is the gateway to the various regions around here that are stubbed with marvelous and majestic mountains. It is also a town torn apart by religious strife, mainly between the Sunnis and Shiites. Sectarian violence between these two Muslim streams were so bad in 2005- where there were bomb blasts in the mosques and fights that left several dead- the two major mosques in the town had to be closed off to the public. Things sort of cooled down now but the tensions are still simmering below the surface; though none of these is obvious and should not deter anyone from going to this beautiful town and region.
Jama Mosque is one of the biggest mosques in Gilgit. It is visible from most parts of the town. It lies in front of the road junction leading to one of two bridges that span the Gilgit River, the Gilgit Pul. This is an old solid hanging bridge which can even handle cars.