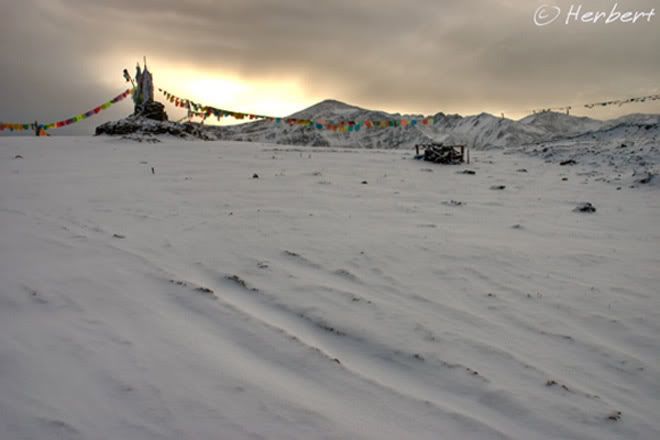 Location: At Tsemi Pass子梅山埡口 4440m, Sichuan China (29°31'3.49"N 101°43'13.67"E)
Date: 25 October 2006, 7.45am
Camera: Canon 400D with Sigma 17-70/f2.8-4.5
There are a several routes to the fabulously located Gongga Monastery (3,860m) at the foot of the Gongga Glacier below Mount Minya Gongga 贡嘎山, which is the highest mountain in Sichuan. At 7,556m the mountain is also the easternmost 7,000m peak in the world and the third highest peak outside of the Himalaya/Karakoram ranges. On the southwest approach, one has to cross the Tsemi Pass (4,440m) on the way to the monastery. The view of the triple peaks Minya Gongga is supposedly best viewed from this very windy pass. However the weather here is notoriously cloudy and foggy and one has to be rather lucky to have a panoramic view of the mountain from here. A typical morning view across the pass is like this photo- eerily quiet and cloudy. As this area is populated mainly by Tibetans, the pass is customarily decked with prayer flags as is the norm at most high vantage points and sacred locations.