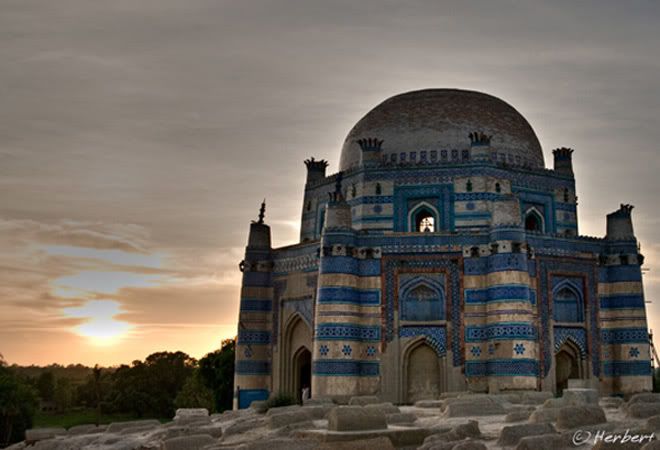 Location: The Bibi Jawindi's Tomb, Uch Sharif, Pakistan (29° 14′ 0″ N, 71° 4′ 0″ E)
Date: 10 February 2008; 8.42am
Camera: Canon 400D with Sigma 17-70/f2.8-4.5
Uch Sharif is a small town, south of Bahawalpur in the Punjab province of Pakistan. It is situated in the Thar Desert and so is very dry and hot. It was believed that this is the town "Alexandria" founded by Alexander the Great but historical records showed that the town existed at least 200 years before him. During the early Muslim period, Uch was a major and important center of Islamic studies.
Uch Sharif is well known for its Sufi shrines, domed tombs that were built for various Sufi (mystic) saints. It is on UNESCO's World Monument Watch as there had been great damages to the various tombs, mainly from elements of nature and neglect. These tombs are now under restoration- the process, as is common in Pakistan, is painfully slow- it has been under restoration for the last few years and may take another few years
Getting to see these tombs take a bit of effort and therefore there are not many foreigners who come by. This is perhaps a blessing as there are no souvenir or snack stalls these around shrines which are right in the middle of the village- they are only ancient village dwellings and a mosque around it. There is no entrance fee either.
Technorati Tags: Pakistan,Uch Sharif,Bahawalpur,Punjab,sufi,Thar Desert,Multan