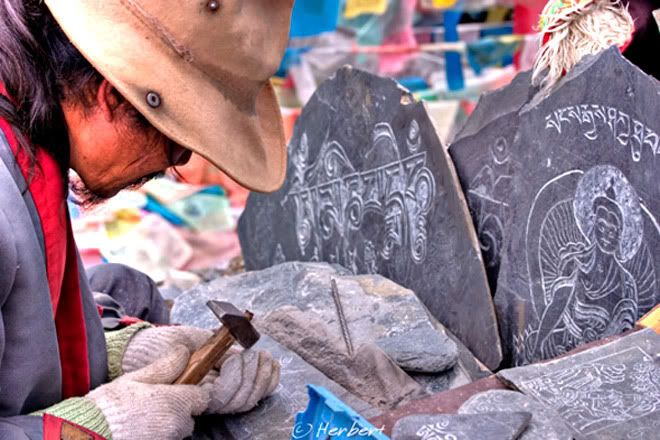 Location: Feilasi, outside Deqin, Yunnan, China (28°27'44.88"N 98°52'47.21"E)
Date: 23 August 2007; 2.00pm
Camera: Canon 400D with Sigma 17-70/f2.8-4.5
Feilaisi in northern Yunnan is where people come to see the fantastic and Tibetan-scared Meilli mountain range. The mountain range is visible across the LancangJiang (Mekong River) from this little settlement. There used to be just a couple of old Tibetan houses and a temple along this short stretch of the road 3 years ago. However there are now many hotels, restaurants and souvenir shops that lined about a longer stretch of this road, catering to the horde of tourists who just came to take a couple of sunrise pictures every morning.
The Tibetan have a practice of burning juniper leaves, leaving scarves and offerings such as these carved mani tablets to holy places such as mountains. This carver was doing a reasonable trade satisfying this need at Feilaisi.