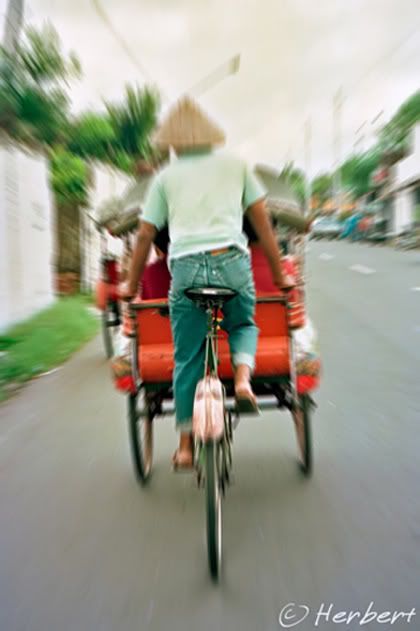 Location: Yogjakarta, Central Java, Indonesia (7° 47′ 0″ S, 110° 22′ 0″ E)
Date: 23 December 1995; 11.20am
Camera: (analogue) Canon EOS 500N on negatives and scanned
Yogjakarta situated in Central Java is well-known as a centre of classical Javanese art and culture including batik, music, dance and puppet shows. It is surrounded by beautiful landscapes including the still-active volcano, Gunung Merapi, Dieng Plateau and the biggest Buddhist monument in the world, the fabulous Borobudur.
Transportation within the city is still dominated by becak or pedal rickshaws. Becak drivers are some of the most friendly people one would meet in the city. In most instances they also double as impromptu guides- only if one speaks the Indonesian language.