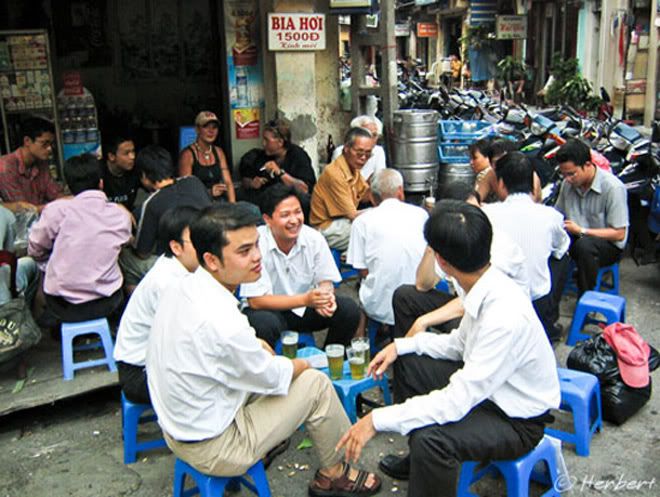 Location: Old Quarters, Hanoi, Vietnam 21°2'N, 105°51'E)
Date: 8 June 2005; 4.52pm
Camera: Canon IXUS IZoom
If one visits Hanoi, one of the most fun things to do is pubbing the Vietnamese way. Well, not quite like that. However in the Old Quarters of the city, one will often see groups of people sitting on low stools at a road junction, beside a cluster of motorbikes and scooters, drinking beer and chilling out. This is more common during the late afternoon when city folks gather with friends after work. The beer or "Bia Hoi" is served chilled from a metal drum. Apparently some places brew their own but most have them delivered from a central brewer fresh everyday- sometimes more than once if business is good. Bia Hoi is not a brand- it just mean beer. However the bia hoi from one outlet may not taste the same as another since some brew their own. The bia hoi that I have drunk from a couple of outlets are not bad, especially great on a hot day; but do not expect it to be Heineken or Carlsberg on-the-cheap. If nothing at all, it is one of the best ways to mingle with the locals. Cheers!