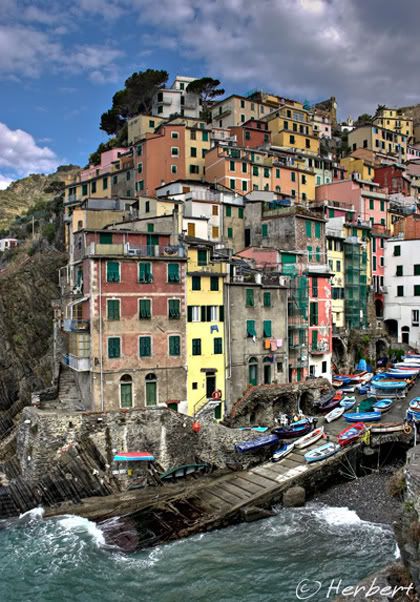 Location: Riomaggiore, Cinque Terre, Italy (44° 6′ 0″ N, 9° 45′ 0″ E)
Date: 10 March 2006; 10.35am
Camera: Canon 300D with kit lens
Riomaggiore is one of the five coastal villages along Italy's Gulf of Genoa facing the Mediterranean, collectively known as Cinque Terre. It is a beautiful and peaceful place to spend a few days walking and soaking in the rural atmosphere. It is one of the most popular tourist spots in Italy, yet it does not feel that touristy. It is easy to get there (to Le Spezia or Genoa) by train from any places. Furthermore there is a train and a ferry service that connects the villages. However the best way to enjoy the scenery is to walk from one village to another, starting from either end to the last village; then catch the train to get back. On average it takes around six hours to walk from the first to the last village with a bit of browsing in the villages.